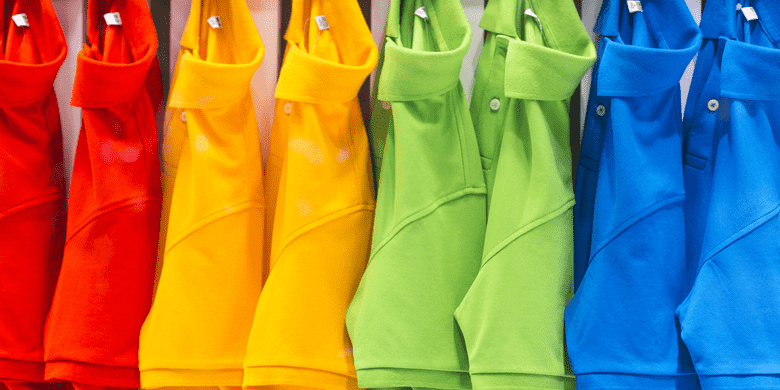 13 April, 2022
6 Reasons Custom Polo Shirts Are So Popular
Custom polo shirts are a proven winner when it comes to successful brand recognition and there are many reasons for this. We thought we'd list some, so you can see why it makes sense to use polo shirts as part of your next merchandise campaign.
1. Easily Recognised: Employees wearing polo shirts for business with a branded logo become part of your brand. If you use them at a conference or trade show, it makes your staff easy to recognise. You can keep the branding simple and just have embroidery on the front left chest or get something emblazoned across the back. Anywhere your staff go, it will advertise your business, but it will also make spotting your staff from the crowd that much easier.
2. Comfort: Polo shirts are comfortable to wear. Even on hot, muggy days, if you have moisture-wicking polos, everyone will still be comfortable. The open placket in the front, short sleeves and the breathability of the material all add to their wearability. The choices in the fabric mean you can also get cotton polos that also breathe well and are very soft against the skin. No more starched, itchy business shirts.
3. Versatility: A great thing about custom polo shirts is their versatility. You can dress them up or down. You can go for a more casual look with an open placket and the shirt worn outside of trousers, or for a more formal look, you go button up the placket and tuck the shirt into the trousers. It means whether you are going for a casual lunch or a business meeting, a polo shirt fits into either environment. They go well with jeans, shorts or trousers, making them easy to combine with the rest of your wardrobe.
4) Cost Effective: Unlike a business shirt where you can easily pay $40 to $50 or more, a good quality polo shirt bought in bulk can be in the low $20sand if you go for budget styles, they can go for under $15. If you have a large crew you need to provide shirts for, this is a great option. They are also cheap enough to hand out as promotional items. Think of the number of years someone could wear them, continually advertising your company.
5) Brand Awareness: One of the great ways polo shirts can help your business is by increasing brand loyalty and recognition. Everyone loves free stuff, so why not get some polo shirts custom branded with your company logo and hand them out to customers. It could be at a trade show as a free gift or perhaps as a thank you with a purchase. By giving away a polo shirt, it will make the recipient feel more connected with your brand, plus they will feel appreciated. Every time they put that polo shirt on, they will be reminded of your company and if they wear them socially, it will also advertise your brand to others – free of charge!
6) The Professional Look: Let's face it – polo shirts look far more professional than t-shirts. They have collars, potentially ribbed cuffs and button-down plackets. This gives them a semi-formal look, which means they can be used in any office environment. You can be comfortable knowing that if you give them away as promotional merchandise, they won't be relegated to the back of the wardrobe. Polo shirts can fit both formal and casual wear, so they are an easy choice to grab off the hanger.
There are so many reasons why polo shirts are so popular. Hopefully, if you don't already use them as part of your merchandise apparel, you will consider them for your next purchase. If you need a hand in choosing the right style, we're here to help, so don't hesitate to call or email us.
The Polo Shirts Only Team