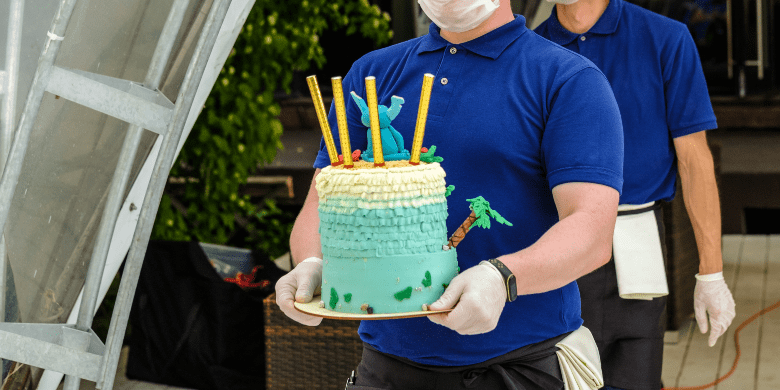 7 January, 2022
Custom Polo Shirts For Restaurant Staff
You're getting ready to open your restaurant, but you are still needing a uniform for the staff. What would work best? That's simple – a custom embroidered polo shirt. They look much smarter than a tee shirt, but are more versatile and comfortable to wear compared to a button down shirt and are more practical for staff to wear. The next step is choosing the right one. There are several things to consider, so we thought we'd try and help by listing the most important factors to consider
Is There A Mens And Ladies Style: One mistake some restaurants make when purchasing polo shirts for their staff is they choose a style that is unisex. These can sometimes be cheaper, but it is best if you can pick a style that has both a male and female fit. This will make the shirts look much smarter and more comfortable to wear, especially for any female staff.


Durability: These polo shirts will be getting a lot of wear and tear, so you want to make sure they are durable. Try and avoid very lightweight materials that may tear or lose their shape. There are many high performance materials that are perfect for catering uniforms that are super comfortable and stylish.


Material: This one sometimes gets overlooked but it is very important. The main thing to look for is a material that is breathable. Working in restaurants and coming in and out of the kitchen, plus the general busyness, means you want a material that won't hold moisture in and allows itself to breathe. There are many styles of what is called moisture wicking material and these are the best to target.


Pocket Or No Pocket: If your staff wear aprons, then a pocket is not needed, but if they don't you may want to consider a polo with a pocket for them to put a pen and possibly their order book.


Branding: You have many options when it comes to branding and each has its strengths and weaknesses.

Embroidery: This is a great way to brand your polo shirts. It gives them a more classy appearance. The other advantage is the embroidery will last the life of the shirt. The only slight downside to embroidery is it is not good for very fine detail, or thin lines. Also getting tonal effects can be difficult. For embroidery it is best to just do a small embroidery on the front left chest with the restaurant name and a simple logo.

Screen Printing: This option is best suited to when you need a larger branding in the back of the shirt. If you want to say it loud, then screen print across the back shoulders. You could also still combine this with an embroidered logo on the front left chest.

CMYK Transfers: These offer full colour print and the technology nowadays means you can be confident the branding will stay on, even through a washing machine. These are perfect if you have a full colour print you need done as the graphics are very crisp and clear.
If you are looking to get polo shirts done for your restaurant, but are unsure what would work best, give us a call on 1800 008 770 or send us an email and we'd be more than happy to assist.
The Polo Shirts Only Team