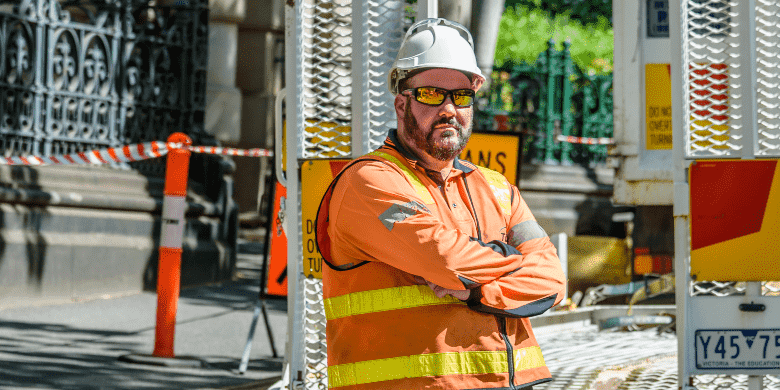 28 November, 2021
Promotional Hi Vis Polo Shirts For Construction Industry
One of the backbones of the Australian economy is construction, and one of the important aspects for workers is hi-visibility polo shirts and workwear for their employees. The reasons are fairly obvious, but the main one is for everyone to be easily spotted on a construction site. There is lots of heavy machinery moving around, and the last thing you want is a workplace accident, and that is where hi-vis shirts come into play.
There is a huge range to choose from nowadays, so we thought it might be good to break it down a little so you can compare the different offerings.
Colour And Design: Gone are the days when all shirts were just plain fluoro yellow. Orange and lime green are now also popular colours to pick from, and there are many two-tone options with the lower section of the shirt being a darker colour and the top section being fluoro. Design-wise, you now have choices of colour trims, swoosh designs, short and long sleeve and sporty designs. You can make a statement nowadays with your business and have your staff stand out from the rest.


To Tape Or Not To Tape: Another innovation that has come into hi-vis polo shirts is the use of hi-vis tape wrapping around the body of the shirt and sometimes also on the sleeves. If you want to give your workers an extra level of protection and especially if they have to be on site after dark, then having reflective tape is a must.


Material: Again, we are spoilt for choice nowadays with the materials we can have for our polo shirts. The most popular is moisture wicking. This is usually made of polyester and is designed to remove sweat quickly from the body and for it to evaporate from the shirt. This gives the wearer a much more comfortable fit during hotter months. Some shirts have both the feature of moisture wicking with a cotton backing to make it smoother on the skin, or you can also opt for 100% cotton hi-vis polo shirts. Just consider where and how your staff work, and that will help you decide which one works best for you.


Branding: This is a big one because not only will this help identify your staff on-site, they will also carry your brand off-site going to and from work. The best recommendation is a small embroidered logo on the front and then large, crisp, clean lettering of your company name on the back. If this is too costly, it is better to keep printing on the back of the shirt as it will have the highest visual impact. One thing to consider is the material you are choosing. If doing polyester shirts, they can sometimes bleed when printing, so the best solution is a transfer print. Technology nowadays means the transfer will adhere and stay on the shirts, unlike in the old days when they would peel. It also allows for full colour prints to be done. Only drawback is the cost as it is about double the cost of a single colour screen print, but the flip side is you get to now print in full colour.
There are many things to consider when making your purchase of hi-vis polo shirts for your construction business, so if you need help in deciding what would work best for your company, we are only a phone call or email away. We'd be happy to help you in making the right choice of garments for your business.
The Polo Shirts Only Team