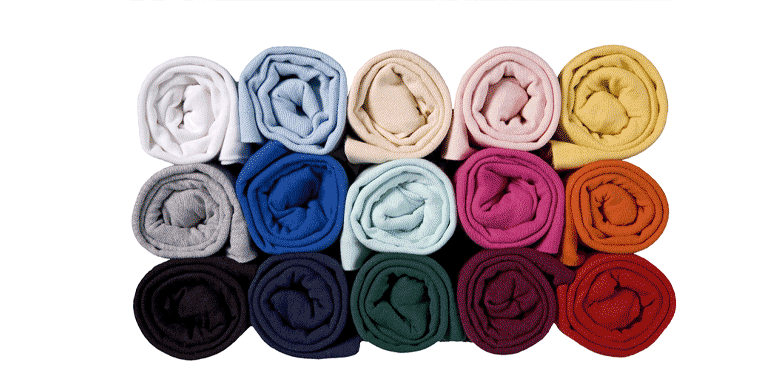 21 June, 2022
Some Of Our Favourite Promotional Polo Shirts
We get asked a lot about what are our favourite promotional polo shirts, both for style and value, so we thought we'd combine a small list of some of our favourites in the hope they may also become your favourites. Each of them has a particular interest, whether it is the price point, the quality of the fabric or the style qualities. They are not only our favourites but also what has been selling the best over these past few years
1. Men's Promotional Polo Shirt – Code PR000405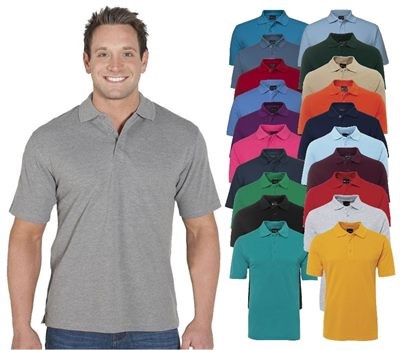 There are many things to like about this particular polo shirt. Firstly, it is the choice of colours. There are currently 30 colour choices along with sizes from small to 5XL. There is literally a colour for any company and size to fit any employee. They are also easy-care polo shirts made of 35% cotton and 65% polyester. Ironing is a breeze. There is also a matching women's style which makes it easy to deck out your entire staff. They look great with embroidery on the front left chest and their price point makes them extremely attractive to purchase.
2. Men's Poly Cotton Contrast Polo – Code PR000947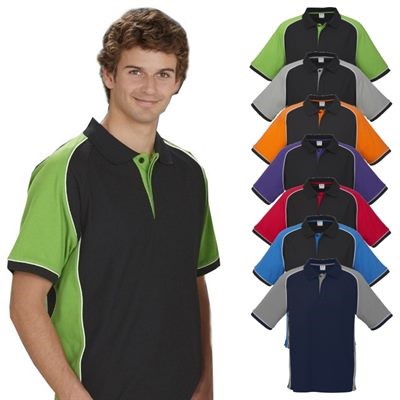 This is a great shirt for a sportier look. The contrasting side panels make them very attractive. The key to this polo shirt is matching your embroidery or print colour to the side panel or the white trim. For instance, if picking the orange panel shirt, do your embroidery in the same orange colour. It will help it pop off the shirt and be easily seen. It's also a poly/cotton mix with a low pill yarn for easy care and has a matching women's style. It's perfect for sports clubs or associations to give to members to make them feel part of the club and just that little bit more special.
3. Anderson Ladies Polo – Code PR010378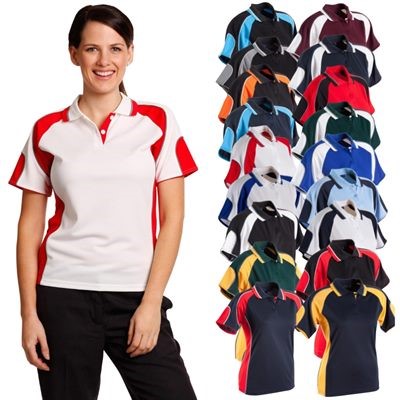 It's easy to see why this has been one of our more popular polo shirts. Just look at that colour range! 18 different options that cover every spectrum of corporate colours you can think of. These polo shirts are made from Cool Dry material. This means they are designed to whisk away sweat from the body to be absorbed quickly by the material and then evaporate. It makes them very comfortable to wear and is perfect for any type of "sportier" activity. They also come in a men's style so it is easy to mix and match and they have a UPF 30+ protection, so they are ideal to wear outside and still stay comfortable and protected.
4) Hi-Vis Men's Polo Shirt – Code PR000518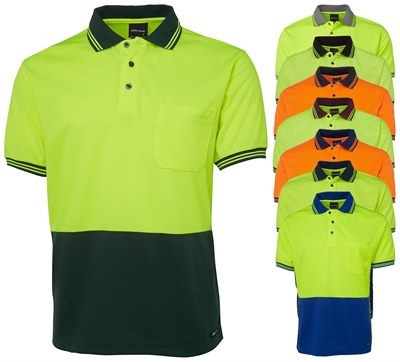 This one is for all the tradies out there. The reason we like this one, in particular, is that you have many options in the breakdown of the hi-vis colours. It gives you slightly more variety and can help distinguish your workers from others on a worksite. Also, they go from a 2XSmall up to 7XLarge, so you'll be able to deck out all your team. They are micromesh with an easy-care fabric that is quick-drying and they comply with AS/NZS day use. The price point also makes these hi-vis polo shirts very popular and you can either embroider or print on them for your branding.
Well, there you have it. Above are 4 of our favourite polo shirts for different reasons. We hope this helps you in your decision of what style to buy, but if you are still confused, we'd be happy to help. Just pick up the phone or send us an email of your requirements and we'll get back to you ASAP.
The Polo Shirts Only Team